Payment card and precious metals backed account. Since 2012
Through VeraCash®, you can save money and make payments using precious metals!
With an account, a payment card and a currency all backed by physical gold and silver, escape the traditional banking system without changing your habits!
Thousands of users have already adopted VeraCash®. Why not join them?
Gold and silver grammes prices in real time
The gold and silver quotations displayed on the VeraCash® website and app show the prices at which a member can buy and sell the gold, stored in our vaults on his behalf, in an instant. The quotation is updated every 15 minutes.
GOLDSPOT
Spot price per gram of gold + 0% premium
58,07 EUR
62,58 USD
50,85 GBP
57,65 CHF
GOLDPREMIUM
Spot price per gram of gold + 6% premium
61,56 EUR
66,34 USD
53,90 GBP
61,12 CHF
SILVER
Spot price per gram of silver
0,80 EUR
0,86 USD
0,70 GBP
0,79 CHF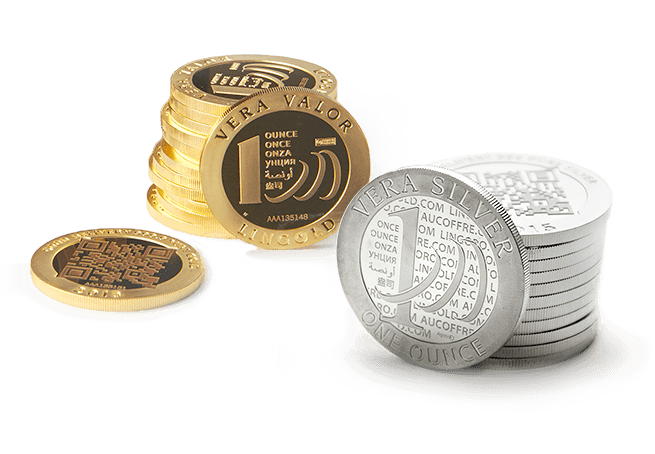 Secure your savings during times of crisis
Physical gold and silver are the safest of investments. All around the world, investors turn to these assets when stock markets become unstable.
Our customers love us 😍 - they're the ones who say so
[Update] Countries and territories from which you can open a VeraCash® account
Austria
Belgium
Bulgaria
Czech Republic
Denmark
Estonia
Finland
France
Germany

Greece
Guadeloupe
French Guiana
Ireland
Italy
Lithuania
Luxembourg
Martinique
Mayotte

Netherlands
Poland
Portugal
Reunion
Saint-Martin
Slovenia
Spain
Sweden
---
Buy gold and pay with your VeraCash® Mastercard: get it for free.