VeraCash Mobile Application
It takes just a few clicks to transfer and exchange VeraCash, manage your account, check your previous transactions and your loyalty programme points, etc. Find out more about the VeraCash app!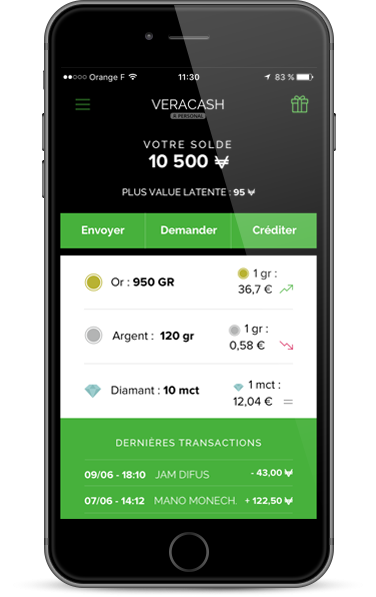 VeraCash mobile application features
The mobile application has been designed to allow its members to send and exchange VeraCash simply and in just a few clicks, but it also offers many other features. The VeraCash mobile app enables you to:
create your account
check your VeraCarte balance and your previous transactions
send and request precious metals (VeraCash), simply and with no additional fee charged
credit your account via a bank card
refer a member
enjoy all the advantages of the VeraCash loyalty programme with points and special offers.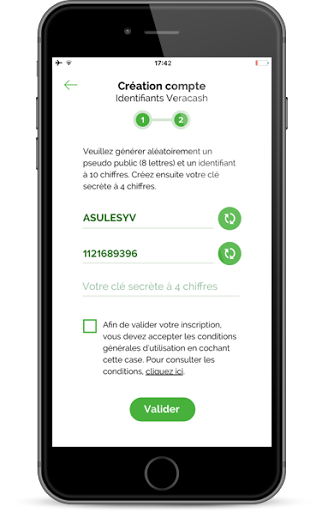 Create your account in the blink of an eye
If you don't yet have a VeraCash account, it is easy to create one via the app. Simply download it and choose your public ID and your username, automatically generated. These also act as your identifiers to log into your member area on the VeraCash.com website.
To complete your registration, use your mobile to take a photo of the documents required and send them via the VeraCash mobile app. Once these have been approved, your account will be unlocked. If you already are a member, use your VeraCash login details to connect to the mobile app.
Pay with VeraCash, anywhere in the world at no charge
The VeraCash mobile app was designed to send and receive VRC (VeraCash) from peer to peer. Unlike the existing solutions available on the market, VeraCash can be sent anywhere in the world, immediately and completely free of charge! 1. Specify the amount in VeraCash (1 VRC = 1 EUR) 2. Enter the public ID of the person you would like to send precious metals to or their email address if the person doesn't yet use VeraCash 3. Choose the reason for the transaction 4. Send a short message with your transaction, and that's all there is to it!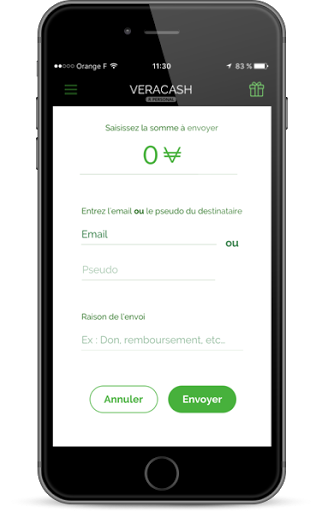 VeraCash app loyalty programme
Every time you use VeraCash, the mobile app automatically rewards with points via the VeraCash loyalty programme. Collect your points and convert them into gifts.
The loyalty programme and the number of points can be found when you click on the "gift" icon, at the top hand corner of the mobile app screen. Discover the gift catalogue offered by our partner brands and stores and by the VeraCash company!