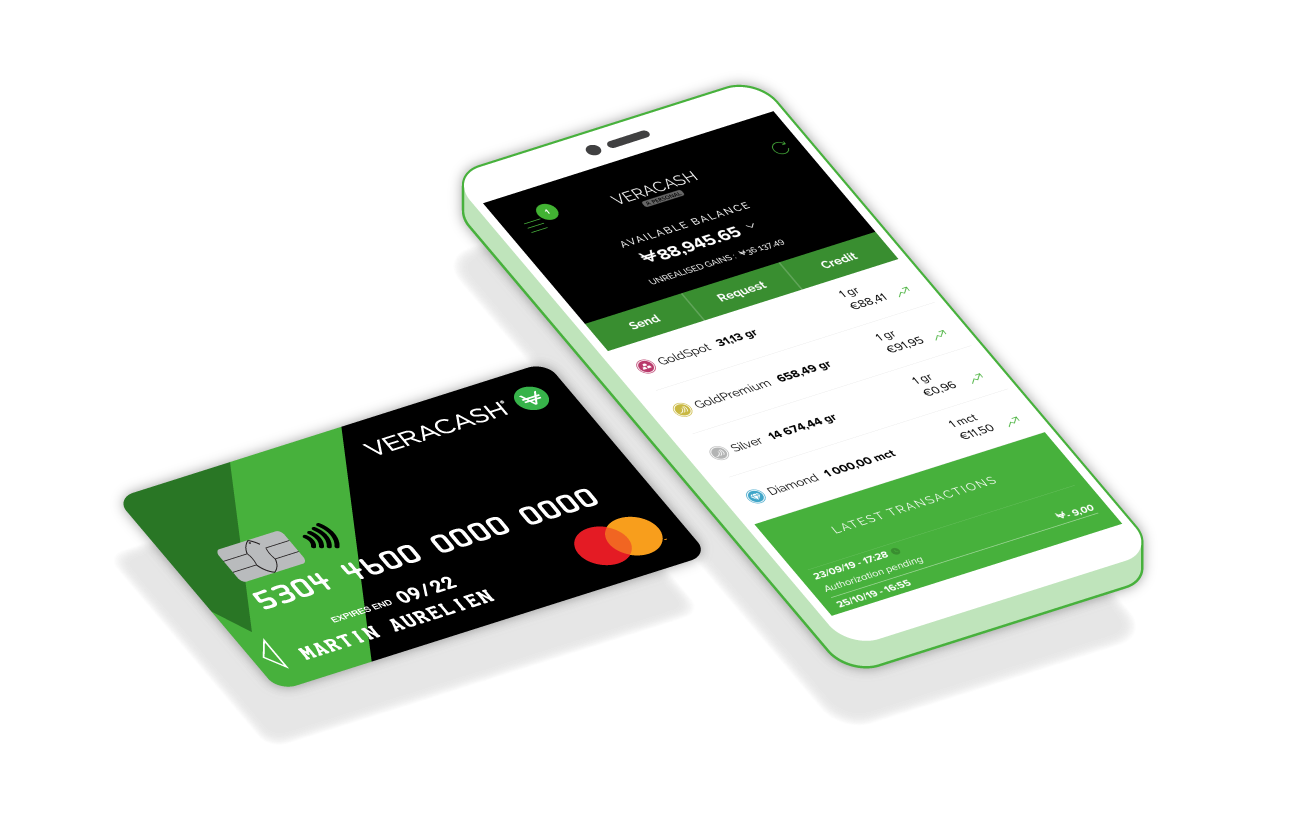 Pay with gold in a fully transparent way
Pay for your everyday purchases with gold – that's what the VeraCash® Mastercard payment card allows you to do. The VeraCash® card is unique because it is connected to your VeraCash® account, which is backed by gold or silver. But isn't it outdated or even impossible to pay with gold? Open an account free of charge and check it out for yourself!
Mastercard® payment card

The card is free with no hidden charges

No fees when used abroad

Compatible with contactless payment

No income requirements

I want one

Pay with contactless
Place your card on the terminal and it's paid for! Contactless payment authorises up to 3 transactions each with a maximum of €50. Activate or disable contactless using the mobile app.

Freeze or unfreeze your Mastercard®
No need to panic! Freeze it from your mobile app in just one tap. Did you find it again? Unfreeze it! Didn't find it? Order a new one!

Protect your purchases with 3D-Secure
The idea is simple but powerful: on payment pages with the Verified by Mastercard®Secure Code logo, you can verify your identity as cardholder by entering a unique security code received by SMS.

Track your transaction history at a glance
Track your account activity in real time. Your transaction history is updated instantly: card payments, withdrawals, account top-ups, loyalty rewards, etc.
Travel abroad with no fees
The VeraCash® payment card is accepted by almost 40 million merchants and you can withdraw from over 2 million ATMs. All of this, anywhere in the world, with no fees! It's the ideal card for travel outside the Eurozone, as no fees are applied. No surprises when you return from your travels: VeraCash® applies the Mastercard exchange rate – close to the interbank exchange rate.
Boost your buying power
The VeraCash® card gives you much more than a traditional prepaid card! It gives a boost to your buying power: the grams of gold and silver vaulted in your VeraCash® account can increase in value from the time when you buy them to the present moment! Your VeraCash® wallet tracks the price of gold, and so does your buying power!
Four simple steps to open your account: free, secure and paperless
Less than 5 minutes: that's how long it takes to create an account in the VeraCash® app or on our website. There's no subscription, no minimum income or minimum deposit required and, above all, no paperwork to complete. You will just need to confirm your identity, gain full access to your account and receive your payment card.
1. Fill out your personal information

Fill out the registration form with your personal information to generate: a username, a login ID, and choose a four-digit password. Make sure to remember these, as you will need them to sign in to your VeraCash® account later.

---

Once you have registered, you can complete your profile at My Account > My information.

2. Submit the required documents

Before validating any inscription, we need to trust you as much as you trust us. As such, we need to verify that you are indeed the person you claim to be, so VeraCash® will ask you for : a legible copy of your official identification, a proof of address and and a copy of any document showing your bank account number.

---

You can take photos of these documents on your mobile phone and upload them to our website or—even more easily—via our app.

3. Manage your distribution

Your distribution is set to 100% GoldSpot by default, meaning you will only buy GoldSpot when you top up your account. Want to buy other assets? No problem. Simply go to My Account > My distribution and choose your personal distribution between gold, silver and diamonds.

---

Tip: You can change your distribution at any time between purchases.

4. Top-up to buy precious metals

Ready to top up your account? Great! You will need to make your first deposit by sending a bank transfer* to your personal VeraCash® IBAN. No minimum amount is required and, once this transfer is processed, you will soon be able to top up by bank card. Tip: interbank processing can take up to 72 hours, so credit your account as soon as you can – even if it's just by EUR 10!

---

* Funds transferred to your VeraCash® account must come from a bank account held by the VeraCash® account holder. Funds cannot be accepted directly from third parties at this point.

5. Spend however you like

Save or spend your precious metals, the choice is yours! Here too, you have complete control over your debit distribution, i.e. the material that will be used when you make a payment or withdrawal by card, or even if you transfer VRC to another member.